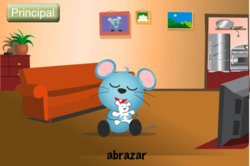 Spanish Versions of Speech Therapy Apps Now Available for the iPad/iPhone
Speech Therapy has been undergoing dramatic changes with the availability of the iPad. Therapists and teachers have been utilizing the new touch screen tool to dramatically improve the child's experience in therapy. However, the experience has largely been limited to English speakers because only a tiny fraction of the apps are available to Spanish speakers. Recently, a Speech-Language Pathologist with her own line of apps sought to change this by introducing two of her popular Speech Therapy apps as Spanish Versions.

Poorani Doonan, a licensed Speech-Language Therapist, created a family of apps called 'Speech with Milo' to help teach basic language skills to children. She created an animated mouse to keep children entertained and engaged in therapy sessions. "The iPad is the perfect device for therapy, but I felt that there was a need for an app focused on basic language skills and structured in a way that children would want to participate." Since inception, the 'Speech with Milo' apps have been a mainstay in therapy and schools. The autism community, in particular, has embraced the iPad as a means to learn and interact. 'Speech with Milo' has participated in iPad giveaways with Autism foundations HollyRod and Danny's Wish to make Milo available to those that need it.

Once Speech with Milo became popular, Mrs. Doonan began to feel that there was an underserved portion of the population with Spanish speakers that need help with basic language skills. "Several bilingual teachers and Speech Therapists emailed me to say that they love our apps, but have a child that needs a Spanish version", says Mrs. Doonan. "I decided that there were probably enough kids out there that would benefit from the app to try to make one."

The 'Verbs' and 'Prepositions' apps can be purchased in Spanish or English on the iPad, iPod or iPhone. The newest 'Speech with Milo' app, 'Sequencing', is not currently available in Spanish.

Description and purchase information is available for Verbs and Prepositions in the Apple app store.
###